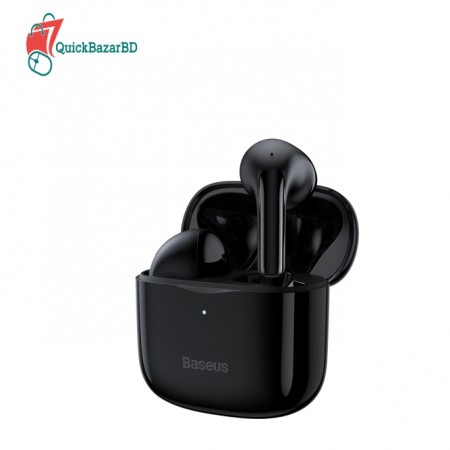 Baseus Bowie E3 TWS Waterproof Wireless Bluetooth V5.0 Sports In Ear HD Stereo Earbuds
| | |
| --- | --- |
| ঢাকায় ডেলিভারি খরচ | ৳ 50.00 |
| ঢাকার বাইরের ডেলিভারি খরচ | ৳ 100.00 |
Baseus Bowie E3 Bluetooth Wireless Earphones
Flash charge in 10min
Baseus Flash Charge technology enables to charge the earphones for 10 minutes and play music for 2hours
13mm Titanium Vibrating Diaphragms
13mm full-range PU composite titanium-plated diaphragm audio unit offers well-balanced triple frequency and clear sound quality.
Fast Response
Low latency mode in the app helps you capture the first opportunity in fighting games
Location via an App
Record the location of earphones disconnected last time, call and search earphones, name your earphones and more functions in Baseus app.
Auto Connection, Fast Response
Open the lid and put them on for music instantly due to automatic connection.
Touch to Control
You can define the functions of tapping gesture in the app to fit your habits and create your personal earphones.
Comfortable Half-In-Ear Design
Half-in-ear design offers a proper fit to the ear canal. The 4g earphone is comfortable to wear for a long time.
25 Hours of Long Battery Life
The low power consumption wireless chip offers 25 hours of long battery life.
IP64 Rating
Waterproof splash-proof design allows you to use them in the rain and exercise freely.
আপনি ঢাকা মেট্রোপলিটন সিটির ভীতরে হলেঃ-
ক্যাশ অন ডেলিভারি/ হোম ডেলিভারি।
ডেলিভারি চা্জ ৬০ টাকা।
পণ্যের টাকা ডেলিভারি ম্যানের কাছে প্রদান করবেন।
অর্ডার কনফার্ম করার ৪৮ ঘণ্টার ভিতর ডেলিভারি পাবেন।
আপনি ঢাকা সিটির বাহীরে হলেঃ-
কন্ডিশন বুকিং অন কুরিয়ার সার্ভিস এ নিতে হবে।
কুরিয়ার সার্ভিস চা্জ ১২০ টাকা বিকাশ/ নাগাদ/ রকেট এ অগ্রিম প্রদান করতে হবে।
কুরিয়ার চার্জ ১২০ টাকা আপ্রদান করার ৪৮ ঘন্টা পর কুরিয়ার হতে পণ্য গ্রহন করতে হবে এবং পণ্যের টাকা কুরিয়ার অফিসে প্রদান করতে হবে।
বিঃদ্রঃ- ছবি এবং বর্ণনার সাথে পণ্যের মিল থাকা সত্যেও আপনি পণ্য গ্রহন করতে না চাইলে কুরিয়ার চার্জ ১২০ টাকা কুরিয়ার অফিসে প্রদান করে পণ্য আমাদের ঠিকানায় রিটার্ন করবেন। আমরা প্রয়োজনীয় ব্যবস্থা নিব।