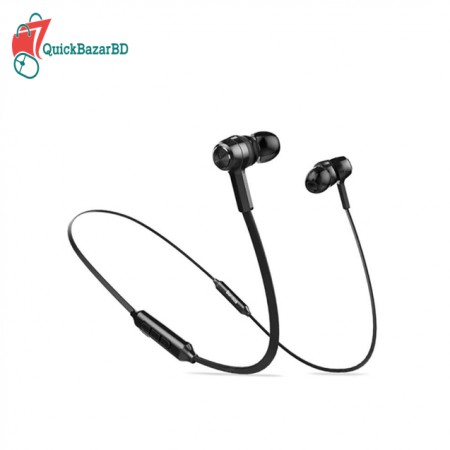 Baseus Encok S06 Bluetooth Earphone Magnetic Wireless Neckband Earbuds Sport Stereo Earphone
| | |
| --- | --- |
| ঢাকায় ডেলিভারি খরচ | ৳ 50.00 |
| ঢাকার বাইরের ডেলিভারি খরচ | ৳ 100.00 |
Baseus Desinus S06 is designed to be slim and light, Magnet design, which will be fixed when not in use or tuck away into the travel pouch. When you finish done listening to your music, wear them around your neck with the built-in magnets.
Wire Control Operation/Support call
In-built microphone (with CVC Noise Suppression) and 3-button remote enable you to manage more conveniently – from skipping a song, to answering a call without touching your phone.
Specification:
Sensitivity: 93±3dBdB
Resistance: 32Ω
Frequency Response Range: 20 – 20000Hz
Battery Capacity: 100mAh Lithium battery
Driver Diameter: 8mm
Transmission distance: 10 M
Music Time: Around 8 hours (Reduced Volume)
আপনি ঢাকা মেট্রোপলিটন সিটির ভীতরে হলেঃ-
ক্যাশ অন ডেলিভারি/ হোম ডেলিভারি।
ডেলিভারি চা্জ ৬০ টাকা।
পণ্যের টাকা ডেলিভারি ম্যানের কাছে প্রদান করবেন।
অর্ডার কনফার্ম করার ৪৮ ঘণ্টার ভিতর ডেলিভারি পাবেন।
আপনি ঢাকা সিটির বাহীরে হলেঃ-
কন্ডিশন বুকিং অন কুরিয়ার সার্ভিস এ নিতে হবে।
কুরিয়ার সার্ভিস চা্জ ১২০ টাকা বিকাশ/ নাগাদ/ রকেট এ অগ্রিম প্রদান করতে হবে।
কুরিয়ার চার্জ ১২০ টাকা আপ্রদান করার ৪৮ ঘন্টা পর কুরিয়ার হতে পণ্য গ্রহন করতে হবে এবং পণ্যের টাকা কুরিয়ার অফিসে প্রদান করতে হবে।
বিঃদ্রঃ- ছবি এবং বর্ণনার সাথে পণ্যের মিল থাকা সত্যেও আপনি পণ্য গ্রহন করতে না চাইলে কুরিয়ার চার্জ ১২০ টাকা কুরিয়ার অফিসে প্রদান করে পণ্য আমাদের ঠিকানায় রিটার্ন করবেন। আমরা প্রয়োজনীয় ব্যবস্থা নিব।