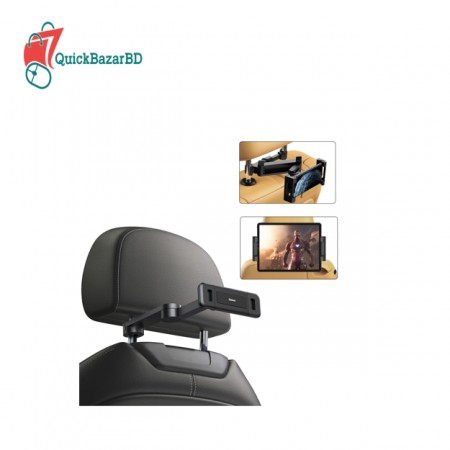 Baseus Car BackSeat Phone Holder 360° Rotation Foldable Stand For 4.7-12.3 Inch Tablet Ipad Phone
| | |
| --- | --- |
| ঢাকায় ডেলিভারি খরচ | ৳ 50.00 |
| ঢাকার বাইরের ডেলিভারি খরচ | ৳ 100.00 |
Baseus Back Seat Car Mount Holder
Baseus Back Seat Mount Tablet Stand Car Holder For iPad Air Mini Pro Backseat Car Phone Holder Stand For iPhone Xs Max Samsung.
Specefication:
Brand Name: BASEUS
Material: Plastic
Model Number: Baseus Back Seat Car Mount Holder
Package: Yes
Colors: Black/White/Red
Compatible iPhone Model 1: For iPhone Xs Max Xr X 8 7 Plus 6 6s Plus iPad
Compatible iPhone Model 2: For Samsung S7 Edge S8 S8 Plus Note 4 5 6 7 8 For Nokia For Huawei
Feature1: Tablet Stand,Universal car bracket
Feature:
Made of the highest quality materials, with this bracket you can be safe in the knowledge that your device is held sturdily and that it is built to last, unlike many cheaper alternatives which often break after only one use.
Available in 3 striking colours, each of which can truly complement your cars interior, making this both a fashionable accessory as well as a utility.
360 Degree rotation provides multi-angle adjustment
Simple installation to the back of the front seat headrests using a spring telescopic design which takes seconds to do.
Fits devices with screen sizes from 4.7 inches to 12.9 inches.
আপনি ঢাকা মেট্রোপলিটন সিটির ভীতরে হলেঃ-
ক্যাশ অন ডেলিভারি/ হোম ডেলিভারি।
ডেলিভারি চা্জ ৬০ টাকা।
পণ্যের টাকা ডেলিভারি ম্যানের কাছে প্রদান করবেন।
অর্ডার কনফার্ম করার ৪৮ ঘণ্টার ভিতর ডেলিভারি পাবেন।
আপনি ঢাকা সিটির বাহীরে হলেঃ-
কন্ডিশন বুকিং অন কুরিয়ার সার্ভিস এ নিতে হবে।
কুরিয়ার সার্ভিস চা্জ ১২০ টাকা বিকাশ/ নাগাদ/ রকেট এ অগ্রিম প্রদান করতে হবে।
কুরিয়ার চার্জ ১২০ টাকা আপ্রদান করার ৪৮ ঘন্টা পর কুরিয়ার হতে পণ্য গ্রহন করতে হবে এবং পণ্যের টাকা কুরিয়ার অফিসে প্রদান করতে হবে।
বিঃদ্রঃ- ছবি এবং বর্ণনার সাথে পণ্যের মিল থাকা সত্যেও আপনি পণ্য গ্রহন করতে না চাইলে কুরিয়ার চার্জ ১২০ টাকা কুরিয়ার অফিসে প্রদান করে পণ্য আমাদের ঠিকানায় রিটার্ন করবেন। আমরা প্রয়োজনীয় ব্যবস্থা নিব।