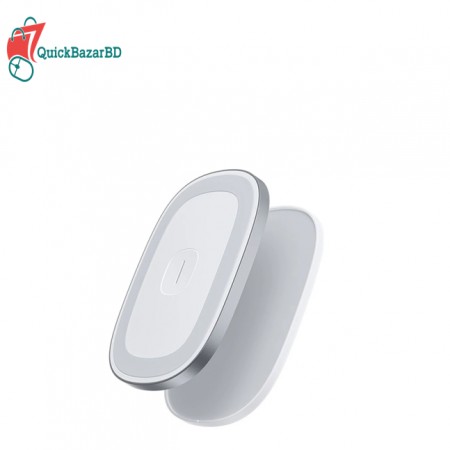 Baseus Car Reading Light Rechargeable Magnetic LED Auto Styling Night Ceiling Lamp
| | |
| --- | --- |
| ঢাকায় ডেলিভারি খরচ | ৳ 50.00 |
| ঢাকার বাইরের ডেলিভারি খরচ | ৳ 100.00 |
Baseus Car Interior Light Reading Lamp Rechargeable Car Ceiling Lamp
Magnetic adsorption for non-destructive installation
It is fixed with 3M adhesive for non-destructive installation with magnets without damage to the ceiling.
Two levels of brightness adjustment
The touch switch enables light up instantly with one touch and adjustment of brightness modes.
Fit original car design
Slim light body matches the car body.
4000K color temperature
35 lamp beads bring more sufficient brightness and 4000K natural light color temperature realizes soft light and better eye protection.
USB charging
A built-in lithium battery for USB charging.
আপনি ঢাকা মেট্রোপলিটন সিটির ভীতরে হলেঃ-
ক্যাশ অন ডেলিভারি/ হোম ডেলিভারি।
ডেলিভারি চা্জ ৬০ টাকা।
পণ্যের টাকা ডেলিভারি ম্যানের কাছে প্রদান করবেন।
অর্ডার কনফার্ম করার ৪৮ ঘণ্টার ভিতর ডেলিভারি পাবেন।
আপনি ঢাকা সিটির বাহীরে হলেঃ-
কন্ডিশন বুকিং অন কুরিয়ার সার্ভিস এ নিতে হবে।
কুরিয়ার সার্ভিস চা্জ ১২০ টাকা বিকাশ/ নাগাদ/ রকেট এ অগ্রিম প্রদান করতে হবে।
কুরিয়ার চার্জ ১২০ টাকা আপ্রদান করার ৪৮ ঘন্টা পর কুরিয়ার হতে পণ্য গ্রহন করতে হবে এবং পণ্যের টাকা কুরিয়ার অফিসে প্রদান করতে হবে।
বিঃদ্রঃ- ছবি এবং বর্ণনার সাথে পণ্যের মিল থাকা সত্যেও আপনি পণ্য গ্রহন করতে না চাইলে কুরিয়ার চার্জ ১২০ টাকা কুরিয়ার অফিসে প্রদান করে পণ্য আমাদের ঠিকানায় রিটার্ন করবেন। আমরা প্রয়োজনীয় ব্যবস্থা নিব।